Samarium Cobalt magnets (SmCo magnets) were developed in early of 1960s , as one kind of rare earth magnes, its mainly ingredient is Samarium metal ,Cobalt metal and other metals.  when NdFeB magnet in some limitations because of its corrosive behaviour, SMCO magnets will be the best choice for hard corrosive working condition base on its own good corrosion resistance.

MAG SPRING® is a professional  Samarium cobalt magnets (Samarium Magnets)  manufacturer from China .We can supply Samarium Permanent Magnets with highest properties in China base on many years experince about permanent magnets  . Our Samarium cobalt magnets are widely exported to Germany, USA, Japan, Russia, etc. The capacity is 1000 tons per year.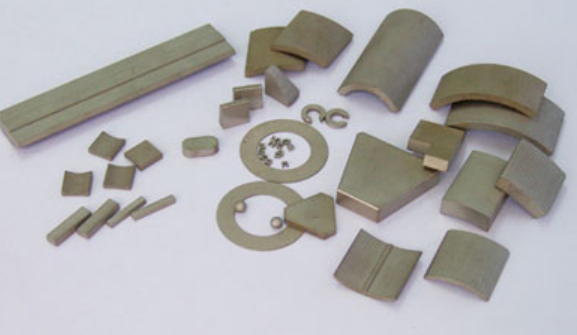 How to Buy Samarium Cobalt Magnets?
If you want to buy right Samarium Cobalt Magnets ,Please tell us the following information if possible.
1. Any drawing or Shape,Dimension and tolerance ;
2. SmCo Magnet Grade or Detailed Magnetic properties;
3. Almost no need coating because its own materials is corrosion resistance. but Nickel , Zink or Epoxy are available to avoid easy chips happening during assembling;
3. Direction of magnetization of Samarium Cobalt Magnets, magnetized or not magnetized for shipment;
4. Other requirement if possible;
5. Quantity, delivery way( sea shipment or air shipment );
6. Any Seaport or airport nearby your company.
Most Sintered SmCo magnets can working on 300-350 Celsius Degree , Special grade SmCo magnets even can up to 550 celsius degree. 
About  Mag Spring®
Facility
Why Us
Samarium Cobalt Magnets properties list

Grade

Residual Fulx

Coercive Force

Intrinsic Coercive Force

Max. Energy Product

Br

Hcb

Hcj

(BH)max

KGs

T

KOe

KA / m

KOe

KA / m

MGOe

KJ/m3

SmCO5

SM-16A

8.0-9.0

0.80-0.90

7.7-8.8

613-700

18.0-30.0

1430-2388

16±2

127±16

SM-18A

8.4-9.7

0.84-0.97

8.2-9.4

653-748

15.0-22.0

1194-1751

18±2

143±16

Sm2Co17

SM-24A

10.0-10.6

1.00-1.06

8.0-9.5

637-756

20.0-28.0

1592-2229

24±2

191±16

SM-24B

10.0-10.6

1.00-1.06

6.2-8.0

494-637

7.0-11.0

557-876

24±2

191±16

SM-26A

10.2-10.8

1.02-1.08

8.5-10.2

677-812

20.0-28.0

1592-2229

26±2

207±16

SM-26B

10.2-10.8

1.02-1.08

8.0-9.5

637-756

9.0-18.0

717-1433

26±2

207±16

SM-28A

10.5-11.0

1.05-1.10

8.5-10.3

677-812

20.0-28.0

1592-2229

28±2

223±16

SM-30A

10.7-11.5

1.07-1.15

8.5-10.5

677-836

20.0-28.0

1592-2229

29±2

231±16

SM-30B

10.7-11.5

1.07-1.15

7.5-9.5

597-756

9.0-18.0

717-1433

29±2

231±16

SM-32A

11.0-12.0

1.10-1.20

9.5-10.5

756-836

20.0-28.0

1592-2229

30±2

239±16

SM-32B

11.0-12.0

1.10-1.20

7.0-9.5

557-756

8.5-15.0

677-1195

30±2

239±16